Reading Time:
2
minutes
Jair Bolsonaro swept to power in Brazil's presidential election Sunday, marking a hard pivot to the right that promises to open up the resource-rich economy to private investment, strengthen ties to the U.S. and unleash an aggressive crackdown on epidemic crime.
The former army captain trounced Fernando Haddad, a leftist former Sao Paulo mayor whose Workers' Party became synonymous with graft, winning 55 percent of the vote to Haddad's 45 percent with almost all votes counted. His supporters thronged public places throughout the fifth-largest nation, celebrating with flags, music and fireworks. Brazilian assets surged.
Markets Seem Sanguine at the Election Result
The Real's immediate reaction suggests that markets have at least made their peace with the advent of Bolsonaro, despite his being a self-confessed economic neophyte.
USD/BRL has retraced about half of the gains put in since March, which took it up to three-year peaks in late August as the prospect of higher US interest rates took a heavy toll on Emerging Market currencies in general.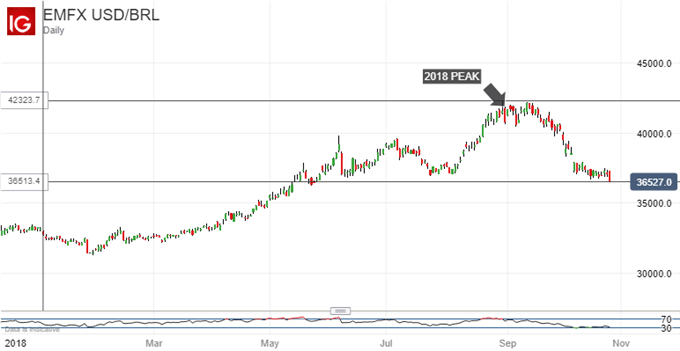 Still, while the new administration in Brasilia can probably take heart from this, huge challenges lie ahead. Those higher US rates remain a reality, which will to weigh on economies like Brazil for some time to come. Indeed much of the International Monetary Fund's recent global growth downgrade was predicated on its fear of stronger headwinds for just such emerging markets.
Urgent Problems Loom Large
The prospect of trade war has not gone away either. For the moment, it seems that US agricultural sanctions against China have provided a boom for Brazilian farmers, who can be alternative suppliers, but local ministers have warned that rising costs may yet hamper competiveness.
Brazil is also in urgent need of economic and fiscal reform, notably in the area of productivity where Gross Domestic Product per worker has stagnated since the 1990s. The Fitch credit rating agency fretted Brazil's large fiscal deficit, rising debt burden and vast mandatory spending commitments in a report earlier this month. The public pension fund also needs attention quickly.
Now these are all long-standing and crippling domestic problems. Successive administrations have either failed to solve them or not even tried. They now fall to Bolsonaro. It seems that the markets are prepared for the moment to give him the benefit of many doubts, but that happy state is not likely to last.
The economic neophyte needs to get up to speed very quickly.