Reading Time:
2
minutes
---
A day after U.S. stocks smashed out yet another record, a vintage Ferrari went under the hammer for the highest price ever — the latest sign that while investors may grumble about frothy financial asset valuations, they're still prepared to pay up.
An early employee at Microsoft sold the 1962 Ferrari 250 GTO for $48.4 million at the weekend, more than 25 percent above the previous record for a classic car sold at auction some four years ago.
And while the S&P 500 Index's fresh all-time high on Friday claimed a lot of headlines, it turns out an Italian roadster was the more lucrative buy. Hagerty's index of Ferrari prices has tripled this decade, more than the 158 percent jump for the U.S. equity bull market.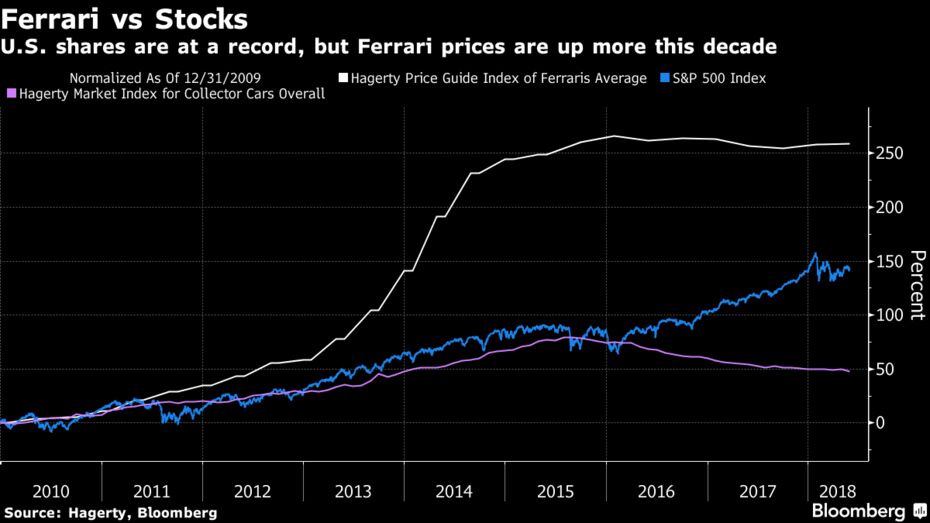 The records come after a Leonardo Da Vinci masterpiece sold for $450 million, the most ever for a piece of fine art. It all shows market watchers should probably be getting worried, says Shane Oliver, a Sydney-based investment strategist at AMP Capital Investors Ltd., who wrote his PhD thesis on efficiency in markets and asset bubbles.
"Exuberance is back in a big way," Oliver said. "The fact that people are paying record amounts for Ferraris and paintings and share markets are at record highs causes me to be a little bit more cautious."
Even with dividends reinvested, Ferraris commanded a faster increase in value than listed U.S. companies since the end of 2009. Gains on the iconic car, though, have largely petered out over the last three years and U.S. stocks have outperformed.