Reading Time:
2
minutes
---
Hong Kong Intervenes again…
Hong Kong intervened again to defend its currency peg as the greenback rallied after U.S.-China trade talks yielded no progress.
The Hong Kong Monetary Authority bought HK$1.77 billion ($225 million) during New York trading hours on Thursday, according to the de facto central bank's page on Bloomberg. That came as the city's currency touched the weak end of its permitted trading band at HK$7.85 for a third session Friday. The aggregate balance will fall to HK$91 billion on Aug. 27.
The trade talks between the world's two biggest economies wrapped up on Thursday with no major progress, hours after Beijing and Washington rolled out their latest round of tariffs. The Bloomberg Dollar Spot Index jumped the most in six weeks, while the Hong Kong benchmark Hang Seng Index fell for a second day on Friday.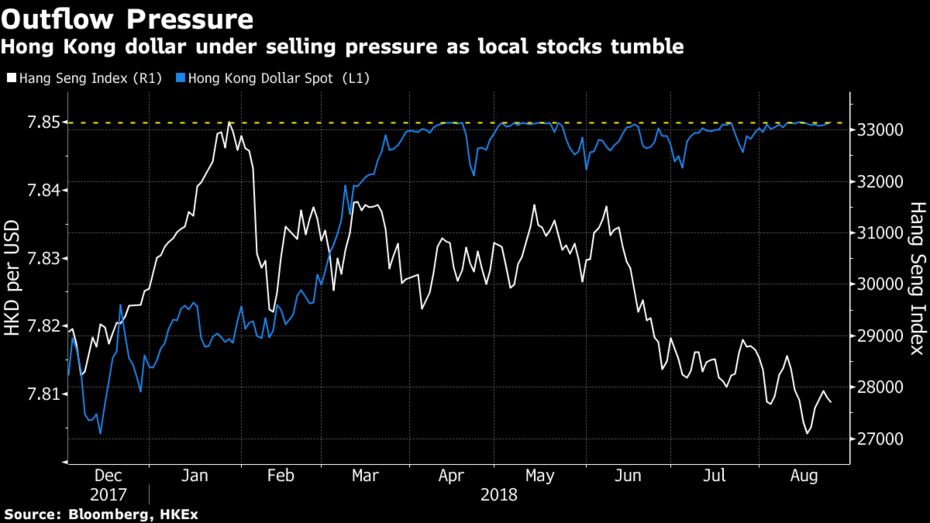 With the HKMA having resumed interventions last week, analysts are watching to see when efforts to defend the Hong Kong dollar will start driving up borrowing costs in the city. The Federal Reserve is widely expected to raise its benchmark lending rate next month, which could pave the path to the first prime rate hike in Hong Kong in at least a decade.
The Hong Kong dollar traded at HK$7.8499 per dollar as of 1:42 p.m. local time, still near the weak end of its trading range. Even with the latest intervention, liquidity appears to remain ample in the city. The overnight Hong Kong dollar interbank rate fell nine basis points to the lowest since Aug. 13. The one-week and one-year rates also declined.