Reading Time:
2
minutes
iShares Currency Hedged MSCI Eurozone ETF inflows up $203 mln
U.S. investors spooked by the caving euro are getting their hedges on.
A record $203 million was added to the iShares Currency Hedged MSCI Eurozone ETF Tuesday, ticker HEZU, a fund that outperforms when the single currency weakens. The same day, four massive block trades, which appear to be sells, hit the tape for the Vanguard FTSE Europe ETF. The fund, known as VGK, also tracks European equities but does not hedge against currency risk. And a day earlier, investors pulled $308 million from its similarly unhedged cousin, the iShares MSCI Eurozone ETF, ticker EZU.
The takeaway? Investors in exchange-traded funds are growing in their conviction that the dollar rally has legs — curbing European stock returns for U.S. investors.
"If I had to guess, given the euro weakness and the footprint of the block trades, it looks like someone is moving money out of VGK and into HEZU," said Josh Lukeman, the head of ETF market making for the Americas at Credit Suisse Group AG.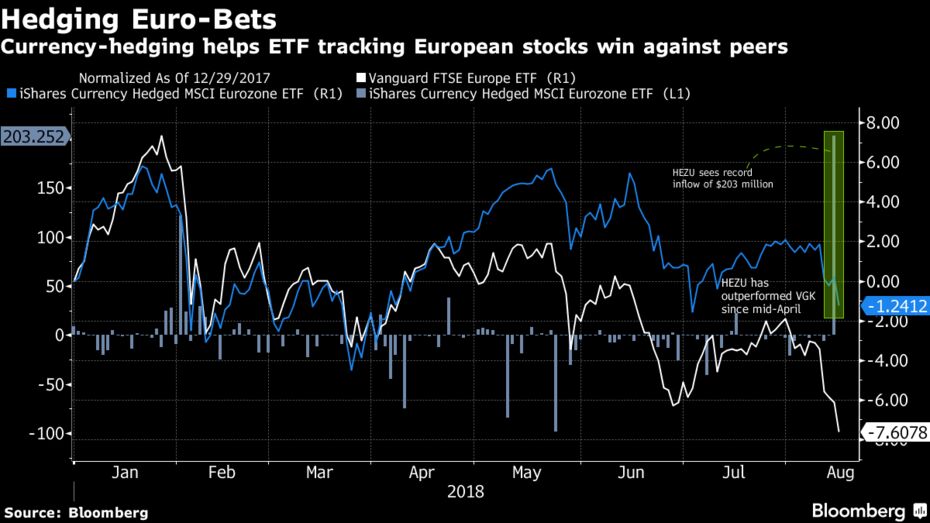 The euro dipped 0.2 percent to $1.1318 at 11:34 a.m. in New York on Wednesday, reaching the weakest in almost 14 months on its fifth straight decline.
The $1.68 billion HEZU holds shares in euro-area companies alongside swaps that are designed to minimize the impact of the common currency's moves on the greenback.
"This looks like one trade and a logical one," said Eric Balchunas, senior ETF analyst for Bloomberg Intelligence. "EZU has been been suffering from the stronger dollar, and HEZU is outperforming for the past 12 months as well."
With a key interest-rate spread between bunds and Treasuries bouncing along near record lows, the euro may be vulnerable to further declines. The greenback is also getting a lift from haven flows.
The last time the iShares fund saw big inflow activity was in 2015, while the euro plummeted to as low as $1.05.