Reading Time:
5
minutes
---
Few people can claim to have created a new debt market. Andreas Petrie is one of them. And more than two decades after his breakthrough deal, he's once again driving a transformation.
Petrie wants to see Europe's largest private debt market escape a tangled web of phone calls, emails, and faxes by shifting to digital platforms within five years. The technology drive is also a key part of efforts to expand so-called Schuldschein lending beyond the German heartland and into global markets.
"The room for growth is huge," says Petrie, the Frankfurt-based head of primary markets at Landesbank Hessen-Thueringen, or Helaba. "The world is constantly moving toward a digital age, and we need to be creative."
Petrie's original brain wave in 1996 was to introduce corporate borrowers to Schuldschein, a bond-loan hybrid then mainly used by European sovereign and financial institutions. German banks led by Helaba, Landesbank Baden-Wuerttemberg (LBBW), and Bayerische Landesbank have since built the idea into a market that reached record issuance of €35 billion ($40 billion) in 2017, before slowing this year. Investors have flocked to a product offering comparatively high yields from generally investment-grade issuers, even after a couple of recent high-profile blowups. Borrowers appreciate a number of features: Schuldschein don't need credit ratings; transaction details can remain private, unaffected by this year's stringent Markets in Financial Instruments Directive II; and paperwork is light, even for billion-euro deals.
"The beauty of Schuldschein is in its flexibility," says Paul Kuhn, head of debt capital markets origination at Bayerische Landesbank, or BayernLB. For closely held or unrated companies otherwise cut off from capital markets, the product is the best option, he says.
QuicktakeWhat Is a Schuldschein?
Like Helaba, BayernLB is working on digital Schuldschein using a platform called VC Trade, which was developed by fintech company Value Concepts GmbH. In April, Petrie's team at Helaba arranged the first Schuldschein on the platform, a green deal for Austrian power company Verbund AG. Helaba then worked with BayernLB on a sale for utility Entega AG. The system cuts processing costs as much as 30 percent, Petrie says, as it manages every step from syndication to issuance and trading. The number of investors on the platform has swelled to more than 100 in just a few months and may double by yearend, says Value Concepts co-founder Sebastian Glock. "The platform is accessible to all investors and free for investors and issuers to use," he says.
Meanwhile, LBBW, the biggest Schuldschein arranger in 2017, set up a rival digital platform called Debtvision in partnership with the Stuttgart Stock Exchange. Marketing for the system's first transaction, for logistics company BayWa AG, began in June. LBBW is now focused on bringing more traffic to the platform. "We are open to share the platform with other banks, but we are not willing to dilute our quality standards," says Joachim Erdle, LBBW's head of corporate finance.
Competition among VC Trade, Debtvision, HSBC Holdings Plc's Synd-X platform, and possibly other systems may help accelerate the adoption of digital. Still, the risk is that separate systems will reduce potential efficiencies, as has happened in other bank-led efforts to create digital trading platforms for specialized securities. "In an ideal world, we would all be using the same platform," says Michael Bergmann, an active Schuldschein investor as a director at Basler Kantonalbank. "It would be a hassle and cumbersome to have to remember the different password and different processes on several platforms." The Swiss-based lender has joined LBBW's Debtvision. (Bloomberg LP competes in many areas of fixed-income electronic trading.)
Schuldschein issuance has surpassed term loans and nonrated corporate bonds in Germany, helping fuel growth for the Mittelstand, the small enterprises that form the nation's manufacturing backbone. Deal size averaged about €210 million in 2016, roughly in line with the U.S. private placement market, according to a European Commission report. About three-quarters of issuers were companies with less than €5 billion in sales.
Larger borrowers include carmaker Volkswagen AG, which raised €600 million in January following a €900 million sale last year. Schuldschein also makes up about 60 percent of gross debt at Axel Springer, publisher of Bild, Germany's biggest tabloid. "Schuldschein currently offers more favorable terms than other financial instruments," says Heike Rust, head of group finance at Axel Springer.
The advantages of Schuldschein, particularly for smaller borrowers, include deal terms that are largely standardized and typically only a few pages long.
Deals can be divided into tranches of different maturities, with fixed or floating rates. Each tranche is further cut into slices according to demand from individual investors—effectively creating a series of direct loans of varying sizes but identical terms. Buyers generally hold their pieces until maturity, although one aim of the technology push is to spur trading. By spreading out the credit among investors, borrowers can avoid bank lenders that might insist on selling additional services.
Technology has helped make the market more liquid, encouraging investors to seek larger deal slices, says Christoph Osterbrink, head of corporate finance at hospital operator Asklepios Kliniken GmbH, a frequent Schuldschein issuer.
One drawback of the Schuldschein market is that renegotiating deals is more complicated than it would be with bonds or loans. Borrowers have to reach agreement with each lender separately, rather than getting majority support and imposing a deal on everyone else. Sales also take about six weeks, similar to a loan, as investors assess the risk in-house.
Petrie, 59, has another avenue for his appetite for risk: racing motorcycles. A photo of a Ducati Multistrada sits on the desk in his office, which is on the third floor of Helaba's landmark 200-meter (656-foot) skyscraper, home to the highest public observation deck in Frankfurt. There are about 20 other motorcycle racing fanatics on his trading floor, Petrie says.
Petrie's capital markets team has grown to 30 people from three when he became head in 1993. He'd come from a syndicated-loan background, so when he saw the simple documentation of sovereign Schuldschein, he knew he'd found his niche. "I'm a fan of simplicity," he says. In 1996 he sold the first corporate Schuldschein, a 50 million deutsche mark issue by household-products maker Benkiser GmbH. Fewer than 10 local banks were offered the deal, a far cry from the hundreds of domestic and overseas banks and funds that participate in the market today. Still, it was quickly oversubscribed, convincing Petrie that the idea was a winner.
Schuldschein lending gradually grew. When bond markets froze up during Europe's credit crisis, sales continued because issuance was dominated by German banks that lent to local businesses and then held on to the loans. That shielded Schuldschein from daily fluctuations in mark-to-market prices. When tighter regulations pared direct bank funding, larger borrowers entered the market.
Investors were able to lock in comparatively high returns. Spreads on five-year Schuldschein tranches averaged about 99 basis points over the euro interbank offered rate last year, almost double the 52.8 basis-point premium paid by investment-grade euro bonds.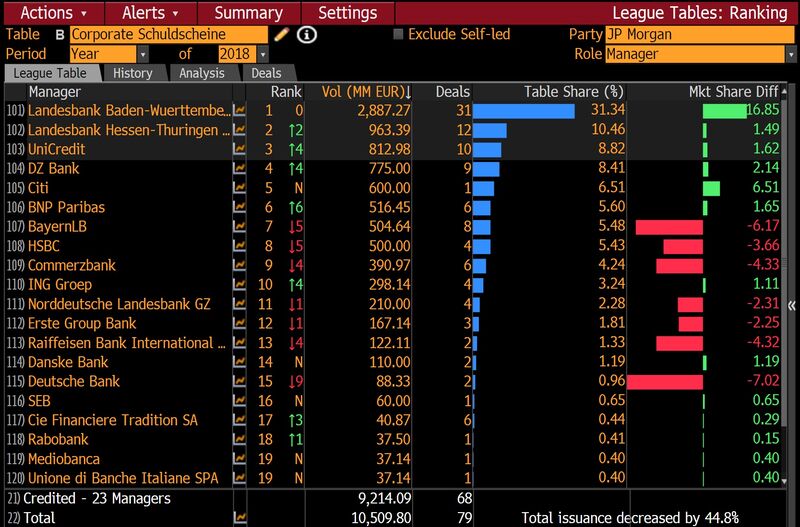 Sales last year totaled €35 billion, triple the figure in 2010. There were 185 deals, almost half of which were from first-time borrowers, including U.S. paintmaker Sherwin-Williams Co. At least 20 more debut deals in the first half of 2018. The push to inter­nationalize Schuldschein has made roadshows in Asia more common. Lenders from the region including Bank of China Ltd. and Mizuho Financial Group Inc. have also acted as managers on deals.
Still, overseas growth has boosted risk as borrowers extend beyond the conservative Mittelstand. Investors in a €131 million Schuldschein were wiped out earlier this year following the collapse of U.K. contractor Carillion Plc. The fate of a €755 million facility from troubled global retailer Steinhoff International Holdings NV was still up in the air in early July. "The Schuldschein market is losing its innocence," says Neil Weiand, a partner at law firm Linklaters.
Investors have become cautious, causing deals to fall through. ADVA Optical Networking SE decided not to proceed with a facility in April based on market feedback. The easing of European Central Bank stimulus measures has also weighed on Schuldschein issuance this year, which mirrored declines for bonds and loans.
The shift to digital platforms may help revive growth by easing syndication and reducing expenses. "Market competition and spread compression have put pressure on income, so we need to optimize cost structure," Petrie says. "Going digital is the answer."